COUPON CODE
Use Coupon Code B9817 for a $200 Discount!
Below is an excerpt from the Pressure Compensating Pumps course unit. Shown below the video is a quiz representative of several throughout the course (not interactive in the sample).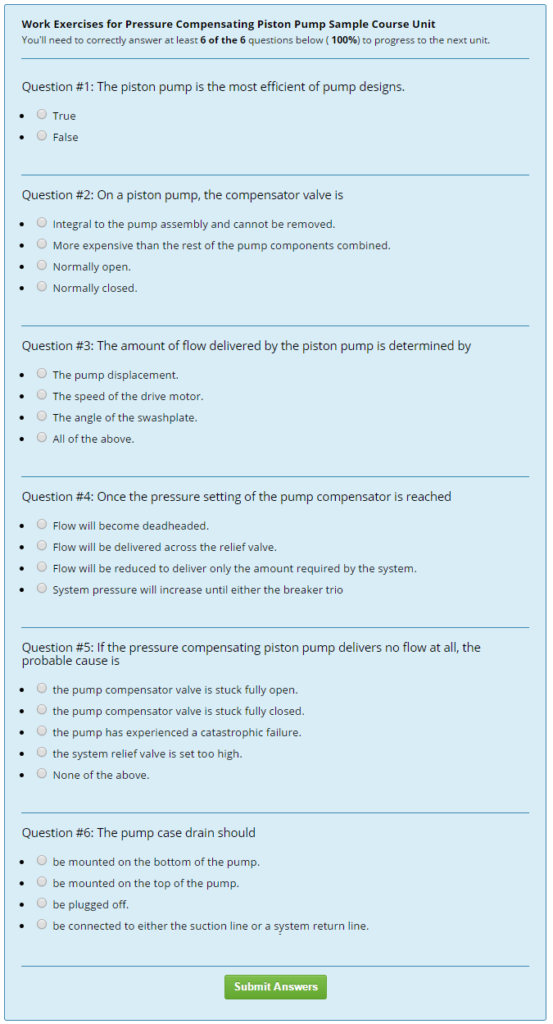 Piston pumps are the most efficient of the three types. Although available in fixed and variable displacements, it is normally used when variable displacement is required over 2000 PSI. Piston pumps are always used in a hydrostatic drive (discussed later in this course).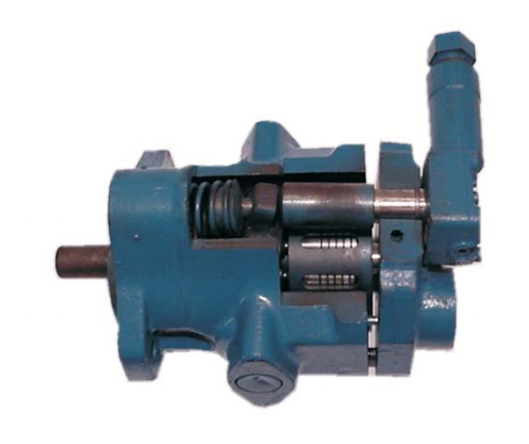 As with the vane pump, the most common method of varying the piston pump displacement is through the use of a pressure compensator. The pump will deliver maximum volume until the compensator setting is reached. At that point, the pump will only supply the amount of oil that the system needs.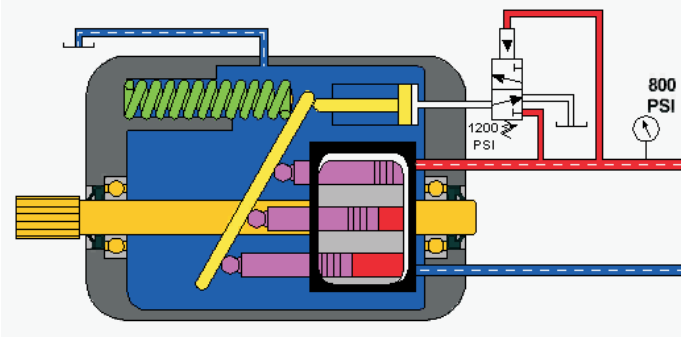 In the picture above, the pressure compensator on the piston pump is a normally closed valve. The spring behind the swashplate tilts the swashplate at its maximum angle. In the picture above the pistons are fully stroking and the pump is delivering maximum GPM. When the pressure builds to the compensator spring setting (1200 PSI) as shown on the next page, the spool shifts and directs fluid to the stroking piston. The swashplate now moves to the vertical position if no oil is required to operate the system. The piston's stroke is now near 0, therefore pump volume is near 0 GPM. Only enough oil is delivered to maintain the compensator setting.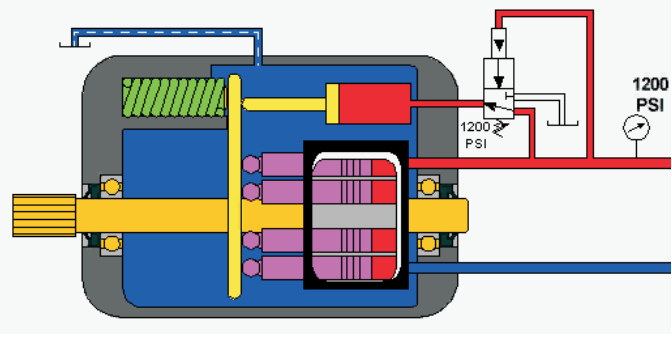 The piston pump compensator can also stick and cause problems in the system. If the compensator sticks closed, then the pump will continue to deliver maximum volume. A relief valve should be provided immediately downstream of the pump for system protection.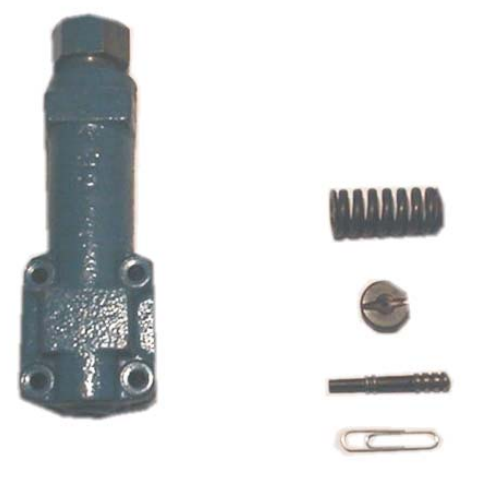 If the compensator spool fails open, the pump will compensate at a very low pressure. Taking the compensator off and taking it apart is the best way to check it. The spool will have some very small holes in it, which could plug up with contamination. The spring should also be checked to make sure it is not bent, broken, or warped.
Basic Hydraulic Troubleshooting
(Approximately 24 – 30 Hours to Complete)
The next best thing to being there!
Since 1994, GPM has been presenting live troubleshooting classes to major corporations such as General Motors, Goodyear, International Paper, Georgia-Pacific and Nissan, to name a few.  Now you can attend the same presentation right at your computer or mobile device at a time that is convenient for you! This online hydraulic troubleshooting course is led by one of GPM Hydraulic Consulting's finest instructors and consultants, Alan Dellinger.
Short quizzes are interspersed throughout the course to reinforce the knowledge gained from the training modules and the downloadable course materials. Upon completion, the student is given a 50-question final examination. After receiving a passing grade, a custom certificate is generated to prove that the student has attended and passed the nation's most respected Basic Hydraulic Troubleshooting course.
Why is GPM's training considered the best by the students who have attended?  First, our instructors are knowledgeable, have in plant troubleshooting experience and know how to teach in a way that is interesting and entertaining.  Secondly, GPM's superior animation of pumps, valves, accumulators and complete systems are second to none in the industry. Thirdly, examples are used throughout the course of actual hydraulic problems the instructor has encountered and the troubleshooting techniques used to find the problem.
And lastly, the training is specifically designed for electricians, millwrights, supervisors, reliability technicians and anyone who is responsible for the hydraulic maintenance of industrial machinery. This course includes the five things that are needed to troubleshoot and maintain any hydraulic system:
The function of all of the system components
How to read and use the hydraulic schematic as a troubleshooting tool
How to troubleshoot individual components, preferably without removing them from the system
How to properly adjust the system for maximum speed and efficiency
The correct reliability checks to ensure system longevity and uptime
Module 1 Hydraulic Fundamentals
Hydraulic Fundamentals must be understood to troubleshoot hydraulics. This module explains in simple terms the physics that govern hydraulics so the student can understand how the various components function in the system. This enables the student to follow a logical troubleshooting procedure to determine the cause of a failure.
Unit 1 Advantages of Hydraulics
Unit 2 Compressibility of Fluids
Unit 3 Pascal's Law
Unit 4 Conservation of Energy
Unit 5 Hydraulic Power
Unit 6 Pressure
Unit 7 Hydraulic Fundamentals Work Exercises Part I
Unit 8 Cylinder Force
Unit 9 Pressure Required to Move a Load
Unit 10 Hydraulic Fundamentals Work Exercises Part II
Unit 11 Volume
Unit 12 Cylinder Speed
Unit 13 Hydraulic Motor Speed
Unit 14 Hydraulic Pipe Size
Unit 15 Hydraulic Horsepower
Unit 16 Heat and the Hydraulic System
Unit 17 Hydraulic Fundamentals Work Exercises Part III
Module 2 Hydraulic Pumps
Hydraulic Pumps are usually the first components changed when a hydraulic problem occurs. The pump should never be changed before making the quick tests taught in this section. A step by step procedure is explained for setting the pump compensator and the system relief valve.
Unit 1 Fixed Displacement Pumps
Unit 2 Gear Pumps
Unit 3 Vane Pumps
Unit 4 Relief Valves and Fixed Displacement Pumps
Unit 5 Checking the Relief Valve
Unit 6 Hydraulic Pumps Work Exercises Part I
Unit 7 The Vented Relief Valve and Fixed Displacement Pumps
Unit 8 Setting the Relief Valve in a Fixed Displacement Pump Circuit
Unit 9 Variable Displacement Pumps
Unit 10 Pressure Compensating Pumps – Vane Pump
Unit 11 Pressure Compensating Pumps – Piston Pump
Unit 12 Compensating Pump Example Circuit
Unit 13 Pressure Compensating Pump Settings
Unit 14 Hydraulic Pumps Work Exercises Part II
Unit 15 Troubleshooting Hydraulic Pump Circuits
Unit 16 Visual Checks
Unit 17 Sound Checks
Unit 18 Troubleshooting Fixed Displacement Pump Circuits
Unit 19 Troubleshooting Variable Displacement Pumps
Unit 20 Hydraulic Pumps Work Exercises Part III
Module 3 Directional Valves
The purpose of a directional valve usually is to direct flow to cylinders and hydraulic motors. In some cases, they may be used to unload pumps or drain accumulators.
Unit 1 Solenoid Operated Valves
Unit 2 Solenoid Failures
Unit 3 Checking the Solenoid
Unit 4 Two-Way Directional Valves
Unit 5 Three-Way Directional Valves
Unit 6 Four-Way Directional Valves
Unit 7 Three Position Valves – Closed Center
Unit 8 Closed Center Valves and Cylinder Drift
Unit 9 Three Position Valves – Tandem Center
Unit 10 Three Position Valves – Open Center
Unit 11 Three Position Valves – Float Center
Unit 12 Solenoid Controlled, Hydraulic Piloted Valves
Unit 13 Common Valve Actuators
Unit 14 Troubleshooting Directional Valves and Cylinders
Module 4 Check Valves and Logic Valves
Check valves, the simplest form of directional valves can be used both for directional control and for pressure control. Logic valves are used in many systems to emulate check valves, directional valves, and pressure controls. Mounted in a manifold, they are better suited to high-pressure applications than conventional hydraulic plumbing.
Unit 1 Standard Check Valve
Unit 2 Spring Loaded Check Valves
Unit 3 Pilot to Open Check Valves
Unit 4 Pilot to Close Check Valves
Unit 5 Logic Valves
Module 5 Pressure Controls
This module focuses upon valves that control pressures in the system. The most common pressure control is the system relief valve which was discussed in the Hydraulic Pumps module and will of course not be repeated here.
Unit 1 Pressure Reducing Valves
Unit 2 Air Bleed Valves
Unit 3 Sequence Valves
Unit 4 Counterbalance Valves
Module 6 Accumulators
Hydraulic accumulators store pressurized hydraulic fluid, making it the single most dangerous component in the system. The accumulator performs the same function in a hydraulic circuit that a capacitor does in an electrical circuit.
Unit 1 What Accumulators Do
Unit 2 Dry Nitrogen Pre-Charge
Unit 3 Charging the Accumulator with Nitrogen
Unit 4 Checking the Pre-Charge Hydraulically
Unit 5 Piston Accumulators
Unit 6 Checking the Piston Accumulator
Unit 7 Bypassing Test and Piston Removal
Unit 8 Undercharged Accumulator
Unit 9 Bladder Accumulator
Unit 10 Checking the Bladder Accumulator
Unit 11 Replacing the Bladder for Bottom Repairable Accumulators
Unit 12 Accumulators and Fixed Displacement Pumps
Unit 13 Accumulator Dump Valves
Unit 14 Accumulators For Shock
Unit 15 Accumulator Safety
Module 7 Flow Controls
To control the speed of a cylinder or hydraulic motor, the flow into it must be controlled. One way of doing this is by metering the flow with flow controls. In this module, different types of flow controls are discussed including the ways they may be installed and troubleshooting guidelines.
Unit 1 The Three Variables That Affect Flow Through an Orifice
Unit 2 Fixed Orifice
Unit 3 Variable Orifice
Unit 4 Flow Controls and Fixed Displacement Pumps
Unit 5 Meter In Flow Controls
Unit 6 Meter Out Flow Controls
Unit 7 Bleed-Off Flow Controls
Unit 8 Pressure Compensating Flow Controls
Unit 9 Temperature and Pressure Compensating Flow Controls
Unit 10 Flow Controls and Pilot Operated Directional Valves
Unit 11 Flow Controls and Suspended Loads
Unit 12 Two-Speed Lowering
Unit 13 Problems With Flow Controls
Module 8 Hydraulic Motors
Hydraulic motors are rated by their displacement, or how much fluid is required to turn them one revolution. The displacement will thus determine the speed of the motor as well as the torque it can develop. This module includes single and bi-directional motors, internally and externally drained, shock protection, associated pressure controls, speed control, parallel and series installation, and flow dividers.
Unit 1 Hydraulic Motors
Unit 2 Radial Piston Motors
Unit 3 Motors and Crossport Relief Valves
Unit 4 Crossport Relief Valve Adjustment Procedure
Unit 5 Brake Valve
Unit 6 Motor Speed Control
Unit 7 Motors in Series
Unit 8 Motors in Parallel
Unit 9 Flow Dividers and Parallel Motors
Module 9 Servo and Proportional Valves
Servo and proportional valves are used to precisely control the position or speed of an actuator. The valves are different internally but perform the same function. A servo valve normally utilizes an internal mechanical feedback device. Proportional valves usually have an electrical feedback, commonly called an LVDT.
Unit 1 Servo and Proportional Valves
Unit 2 Servo Valve Operation
Unit 3 Direct Operated Valves
Unit 4 Two Stage Valves
Unit 5 On Board Amplifiers
Unit 6 Linear Positioner
Unit 7 Valve Amplifier
Unit 8 Computer Control
Unit 9 Nulling the Servo Valve
Unit 10 Servo And Proportional Valve Troubleshooting
Unit 11 Checking the Linear Positioner
Module 10 The Hydrostatic Drive
The Hydrostatic drive turns a hydraulic motor at variable speed. A bi-directional, variable displacement pump controls the direction and speed of the hydraulic motor. This type of drive is commonly called a "closed loop" drive. The two ports of the hydraulic pump are hydraulically connected to the two ports on the hydraulic motor forming the closed loop.
Unit 1 Main Pump
Unit 2 Charge Pump, Relief and Makeup Check Valves
Unit 3 Hydrostatic Pump
Unit 4 Hydrostatic Drive Crossport Relief Valves
Unit 5 Pump Control
Unit 6 Typical Hydrostatic Pump
Unit 7 Shuttle Valve and Relief
Unit 8 Filtration
Unit 9 Checking the Hydrostatic Drive
Module 11 Fluid Maintenance
A very large percentage of hydraulic failures are the direct result of improper care of the fluid. This module addresses reservoir components, oil cooling, contamination, fluid sampling, filters, leakage control and many other elements of maintaining fluids for maximum reliability.
Unit 1 Viscosity
Unit 2 Reservoir
Unit 3 Coolers
Unit 4 Contamination
Unit 5 Sources of Contamination
Unit 6 Fluid Sampling
Unit 7 System Flushing
Unit 8 Filter Selection
Unit 9 Filter Placement
Unit 10 Maintaining Fluids and FIlters
Unit 11 Leakage Control
Module 12 Final Exam
Upon achieving a passing score on the Final Exam, a certificate is generated to prove that you have satisfactorily completed the nation's most respected Basic Hydraulic Troubleshooting course!