When an oil sample is analyzed, the size and number of particles are determined by a particle counter. An ISO code number is then assigned to the number of particles for a given range. For example, if the sample contains 50 particles that are between 4 and 6 micron then the ISO code would be 13.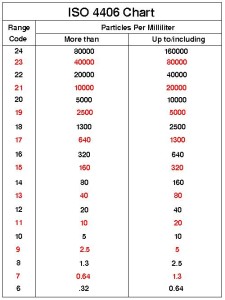 Figure 1
To determine the target cleanliness level for a specific hydraulic system, the most sensitive component used in the system must be identified. The target ISO 4406 cleanliness code and required filtration can then be determined using a chart similar to the one below. The "ISO Target Levels" in the table below represent the particles that are 4 micron and larger, 6 micron and larger and 14 micron and larger. For example, a system that uses a proportional valve operating at 2500 PSI would require a 3 micron filter to achieve the 17/15/12 target level.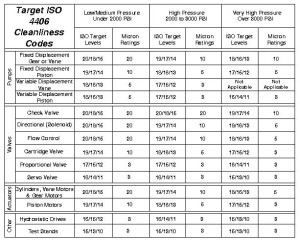 Figure 2
Let's take a look at the contamination level of two systems where a proportional valve is the most contaminant sensitive component. The maximum pressure in both systems is 2500 PSI.

These two systems can be charted on the Cleanliness Code graph to determine the ISO cleanliness level.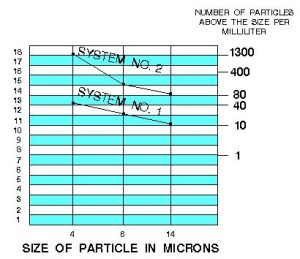 Figure 3
In Figure 1, you can see that in System No. 1 the number of 4 micron particles (44) falls in the code 13 range. The number of 6 micron particles (26) falls within the code 12 range, and the number of 14 micron particles (13) falls within the 11 range. Therefore, the ISO cleanliness level for this system is 13/12/11. The recommended ISO code for a system with proportional valves is normally 17/15/12. In Figure 2, the table indicates that a 3 micron absolute filter rating will be required to meet this code. The term "absolute" refers to the diameter of the largest spherical particle that can pass through the element. Since all numbers (13/12/11) are lower than the standard of 17/15/12, this system exceeds the cleanliness standard.
System No. 2, however, does not meet the ISO 17/15/12 standard. The number of 4 micron particles (1340) falls in the code 18 range. The number of 6 micron particles (173) falls in the code 15 range, and the number of 14 micron particles (94) falls in the code 14 range. The ISO cleanliness code for this system is therefore 18/15/14 and would be unsuitable for the same system.